Why the Best New Vegan Meat Products Will Come from Korea – VegNews
Your Ultimate Source for All‑Things Vegan
Get the world's #1 plant‑based magazine
Unlimeat and Veggie Garden
by Tanya Flink
January 12, 2022
The global rise of the vegan diet is pulling cultures to further innovate. Around the world, entrepreneurs, food scientists, and culinary geniuses are innovating new plant-based alternatives to combat the climate crisis and put an end to unnecessary animal suffering. However, the notion of eating plant-based is still within the early adoption phase. Whether you're in North America or Asia, food cultures have become even more polarized—particularly from the outside looking in. Both the North and South have garnered an unsavory reputation for the now declining dog meat trade. True—approximately one million dogs are slaughtered in South Korea for their meat on an annual basis—but for this extreme, there is another. South Korea is positioned to become a leader in the vegan meat alternative market. Several recent plant-based brand launches and a burgeoning of new vegan products—along with a cutting-edge cultivated meat sector—is positioning the country as one to watch in the global plant-based space.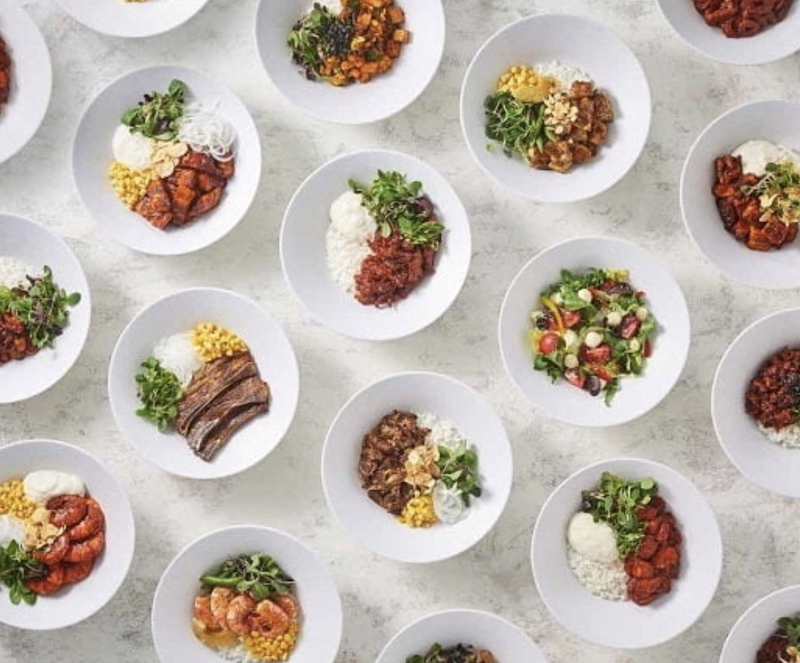 Unlimeat
The rise in meat consumption throughout the decades is reflected in both North American and Korean cultures. In South Korea specifically, pork is king. Between 1980 and 2018, South Korea's pork consumption rose 6.3 kilograms each year to 27 kilograms each year—a 3.9 percent year-to-year increase on average. The popularity of chicken and beef also increased, though as of 2018, South Koreans only consume 12.7 kilograms of beef and 14.2 kilograms of chicken each year. Pork is central in countless Korean dishes—from pork bulgogi (dweiji bulgogi) to pork belly and pork cutlets (donkkaseu). Spam is also extremely popular in South Korean cuisine. The nation is the second largest consumer of Spam behind the US. To keep up with the demand, an average of 18 million pigs are killed each year in South Korea. Given this dependence on meat, an evolution to purely plant-based vegan diets is unlikely. Many people need a high-quality alternative—an animal-free food that provides the familiar tastes and textures of animal-based meat. And Korean innovators are stepping up to fill this gap.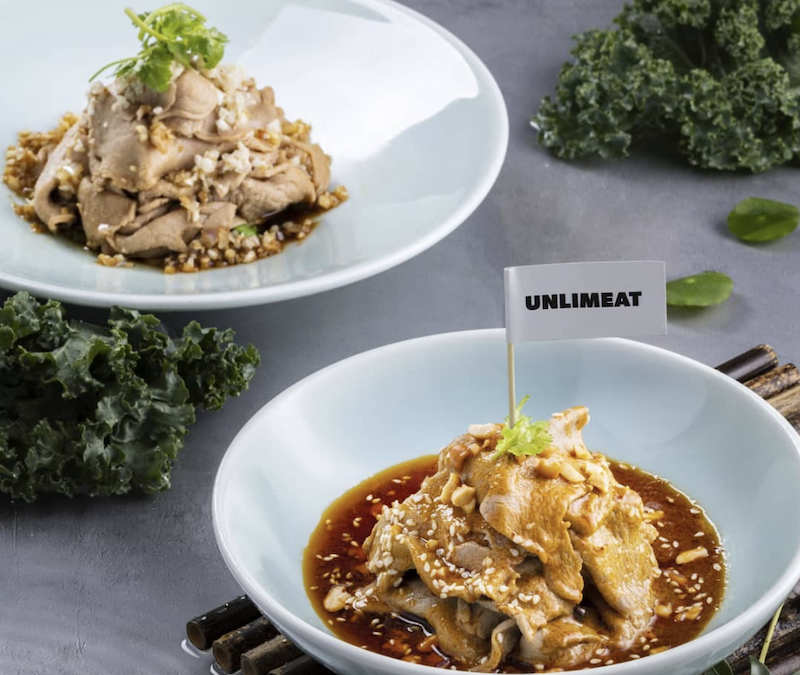 Unlimeat
With the emergence of promising vegan alternatives and a significant reality check from the coronavirus pandemic, the plant-based diet is trending amongst South Korean consumers. A GlobalData Q1 Consumer Survey in 2021 reflected that 55 percent of participants would cite health as the main reason for purchasing plant-based products, and 37 percent claimed the onset of the pandemic had made them extremely or quite concerned about their health. According to the Korean Vegetarian Union, half a million South Koreans identified as true vegan, whereas another 1.5 million identified as vegetarian or mostly plant-based. Given these numbers the vegan population has tripled in the nation within the past decade, but it's the significant rise in flexitarians that has caused such a boom in the plant-based market. The Korean Vegetarian Union estimates that 20 percent of South Korean citizens identify as flexitarian. While this term is rather loose, it describes an omnivore who is generally more open to plant-based options. They're the person who purchases almond milk instead of cow's milk but may still indulge in cheese from time to time. They aren't afraid of trying a new plant-based menu item instead of their meat-based go-to at restaurants. They may participate in Meatless Mondays. In South Korea—and perhaps on a global scale—the openness and curiosity of flexitarians may be the key to the success and growth of vegan alternatives.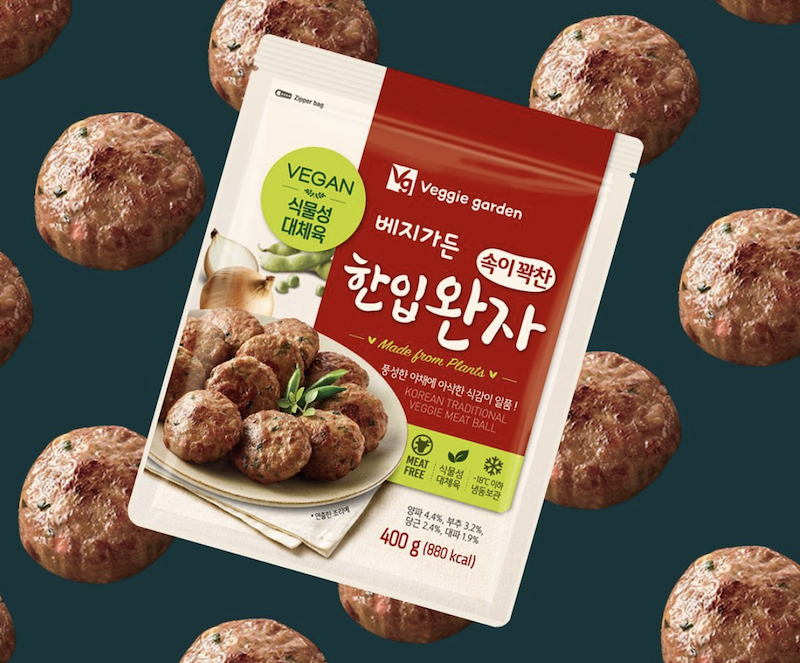 Veggie Garden
South Korea's most prominent vegan beef brand has experienced major growth in recent months. The company raised $23 million in the fall of 2021 and announced the construction of a new manufacturing facility that will be one of the largest plant-based facilities in all of Asia. The nearly 97,000-square-feet building will greatly increase production of Unlimeat's vegan grounds, strips, patties, and more. Unique to most meat alternatives, Unlimeat products are made from upcycled grains, oats, and nuts that would have been thrown away due to aesthetic imperfections. The brand is part of a larger South Korean food company, Zikooin, which was recently founded in 2017. The parent brand is working to get Unlimeat in international supermarkets as well as food service. To date, Unlimeat slices can be found in South Korean Subways and Domino's Pizza. In the US, select products can be purchased through Wooltari Mall USA, a Korean online retailer.
In the dairy department, this Korean food-tech company is making waves beyond its nation's borders. After partnering with a US subsidiary—Armored Fresh—to develop a line of shreds, slices, cubes, and spreads, Yangyoo will showcase its dairy-free cheeses at CES in Las Vegas this month. The company has yet to announce when these products will be available to consumers.
The South Korean vegan market is not exclusive to vegan-only brands. CJ Cheiljedang—a behemoth of a South Korean food company with multiple brands under its name, including the licensing and distribution of Hormel (aka Spam) products—introduced a new plant-based offshoot called PlanTable. This year, the brand is scheduled to launch over 20 new products—from dumplings made with soy-based meat to vegan kimchi. The dumplings have already landed in Australia and Singapore, and there are plans to distribute these products to Europe and the US.
This 40-year old South Korean tofu manufacturer is getting into the plant-based meat business. Most in the US will recognize its Nasoya and Wildwood brands, though the soy megalith can name several other offshoots in its home country. The first eight products debuted in November 2021 in the form of soy-based crumbles and tenders, but the brand also plans to make inroads in the US. The upcoming Plantspired line will launch in America with a range of meatless patties, skillet meals, ready-made bolognese, and stir-fry "tossables." The US debut date has yet to be released.
Purely for foodservice, this vegan cold cut company was born from Shinsegae Food, a Korean food retailer and distributor. It is also the largest stakeholder of Starbucks in South Korea. As such, it leveraged this position to introduce plant-based cold cut sandwiches into Starbucks locations nationwide. The current options include three kinds of plant-based ham: bologna, mortadella, and a German-style ham. Bulgogi and sausage are next in the development line.
A subsidiary of Nongshim—one of the country's major food firms—Veggie Garden will launch a range of 18 vegan products this month. The collection includes vegan meat alternatives such as Grilled Steak and Royal Cuisine Nubiani (beef), non-dairy cheeses, dumplings, ready-made topokki (seasoned rice cakes), and sauces. An additional nine more products will debut in February.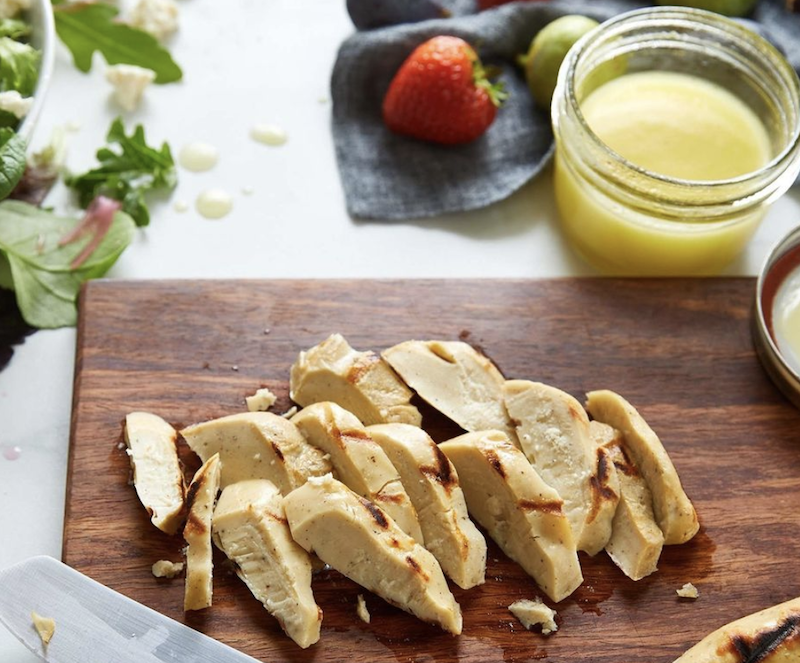 GOOD Meat
Beyond plant-based protein options, South Korea has joined the cell-based meat race with a goal of not only making these products publically accessible, but to improve the processes. In December 2021, CellMEAT released images of its Dokdo shrimp—the first of its kind. The shrimp was created without fetal bovine serum, making the process not only more efficient but more ethical. While the practice of taking tissue from unborn cows was seen as the standard when cultivated meat first gained momentum, companies are looking for more cost-effective and ethical methods to recreate animal muscle tissue. CellMEAT's proprietary serum-free culture could change the game. Having declared the shrimp a success, the company is working to lower the cost of production and look into other seafood options like king crab and lobster.
On the land side of meat, Sejong University researchers revealed the country's first cultivated pork last spring. The ultimate goal for the product is commercialization, though more funding is needed to make this leap. In the meantime, the university team is working on a beef prototype.
Like most countries, South Korea has yet to establish regulations around cultivated meat. Currently, Singapore is the only nation to approve the commercialization of cultivated meat, though Qatar is expected to be next. GOOD Meat—the cultivated meat arm of the American Eat JUST brand, known for its plant-based liquid egg—is the only cultivated meat being served in the world, in the form of cell-based chicken.
South Korea is forging its own path with the plant-based industry. On a global scale, the vegan market has relied less upon importing and more upon at-home innovation. In lieu of shipping in products from one of America's leading meat companies such as Beyond Meat and Impossible Foods, nations are creating their own products and sharing them abroad. The industry has become a two-way street—a constant sharing of ideas, foods, and tastes that both inspire and excite consumers and entrepreneurs that are oceans apart. It's not a competition, and the world still has a ways to go in regards to a vegan majority population, but the more we work together to make these products more accessible, the closer we are to a more compassionate and sustainable planet.
For more on vegan industry in South Korea, read:
Burger King Adds Vegan Whopper in South Korea
Vegan Delivery Service Launches in South Korea
South Korea Is About to Label All Its Vegan Products
Tanya Flink is a Digital Editor at VegNews as well as a writer and runner living in Orange County, CA.
JUST LAUNCHED! Vote for your favorite vegan products in the 2022 VegNews Veggie Awards.
Vote Now
JUST LAUNCHED! Vote for your favorite vegan products in the 2022 VegNews Veggie Awards.
Vote Now
All-things vegan,
in your mailbox and inbox
ONLY $25
Never miss out on exclusive stories, recipes, and giveaways
by Suzannah Gerber
by Nicole Axworthy
by Tanya Flink
by Jocelyn Martinez
by Anna Starostinetskaya
by Anna Starostinetskaya
Get the world's #1 plant-based magazine
Copyright © 2022 Fresh Healthy Media, LLC