Traditional Ecuadorian Food in Queens' Corona Plaza – Culinary Backstreets
Already a member? Log in.



Not a member? Sign up!
Cities
Topics
Projects
Culinary Walks |
Explore our Food Tours →
Sign up for our weekly newsletter for exclusive stories, promotions and activities.
Our first encounter with the chaulafan from Leticias, an Ecuadorian restaurant in Corona, was at the 2021 season opener of the nearby Queens Night Market. As it cooked outdoors – in a wok over high heat, a testament to the dish's origins among Chinese immigrant workers – the fried rice was a dramatic sight.
Our second encounter was outdoors, too, at sidewalk table, although the wok was confined to the kitchen. We didn't watch the fried rice as it cooked, but the presentation told the same story of culinary connection: Our chaulafan was served in a deep bowl that mimicked a Chinese takeout container.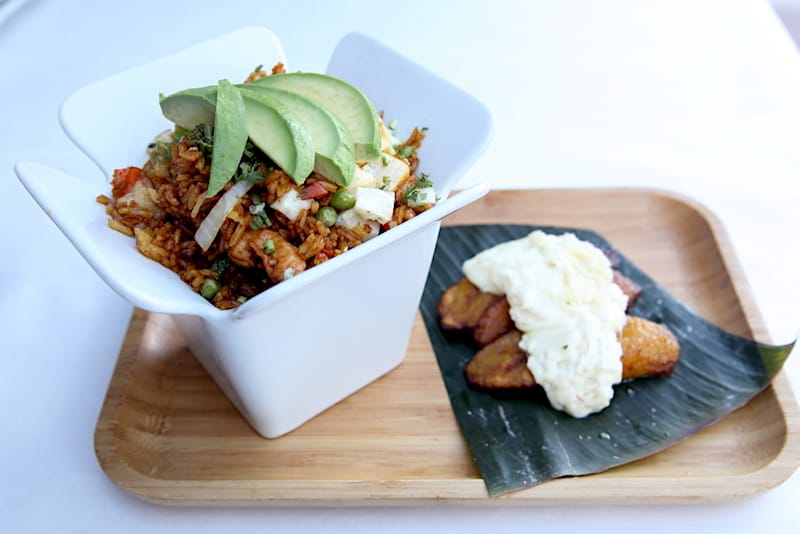 That culinary synthesis is well-established in New York – it's a rare Ecuadorian restaurant that doesn't serve chaulafan – and in Ecuador, where the chef-owner of Leticias, Fernando Cando, was born. His first home was Cuenca, "in the sierra" (the highlands) a "quiet … very colonial" city, Fernando tells us. Cuenca's historic district, a UNESCO World Heritage Site, reflects more than 250 years of Spanish rule over Ecuador.
Fernando, 45, formed his impressions of Cuenca as an adult, however, on return visits to the country. Following the lead of first one uncle, then another, Fernando's parents moved to the United States "for a better life" when he was just a year old. Fernando and his older sister were raised only blocks away from his restaurant, in the house where his parents still live; today the siblings each have a house close by, in the neighborhood of East Elmhurst.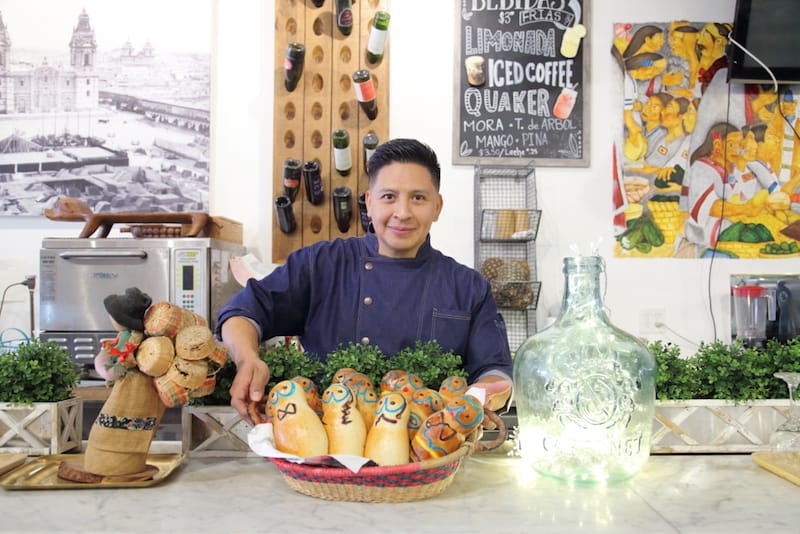 "I remember being little, and my mom would have something on the stove," Fernando tells us.
His mom – Leticia, as you might have guessed – didn't have formal culinary training, but she would always be cooking, especially when friends or relatives came to visit.
His dad, on the other hand, worked for 20 years as a line cook at Piccolo Venezia, an Italian restaurant in Astoria. When Fernando was 16, his dad set out to teach him a lesson – "what hard work is" ­­– and got him a job at the restaurant as a dishwasher. Fernando's workday often began at 5:00 pm with a staff meal – chicken parmigiana was a favorite – closely followed by the 6:00 pm dinner rush. On a Saturday, the restaurant might handle 500 covers. It was "so hard," Fernando recalls.
He also recalls the customer-first ethic of the restaurant owner, Ezio Vlacich, who had a terrific memory for names and a talent for "making people feel special." (And still has, adds Fernando, although Piccolo Venezia is currently closed for renovations.)


Fernando took a series of non-restaurant jobs – with a moving company, as an electronics salesman – while attending the Fashion Institute of Technology in Manhattan, before settling into a career as a graphic designer.
Memories of community and hospitality, especially in his mom's kitchen and at that first restaurant job, stayed with Fernando over the years. His desire to open a restaurant of his own was kick-started by the renovation of Corona Plaza. Originally, the plaza was a service road alongside busy Roosevelt Ave. that offered parking for a movie theater and neighboring shops.
Beginning in 2012, however, it was reserved for pedestrians only. In the years since, Corona Plaza has been transformed into a lively hub for street vendors and a safe space for neighbors to gather, relax, even play.
As he observed this transformation in his old neighborhood, and with the thought that "food is the best place to get communities together," Fernando resolved to open a restaurant on National St., which borders Corona Plaza's western edge. He "looked for two years" before finding a suitable space: a former Mexican bar, which he made over into an Ecuadorian family restaurant. Leticias opened in 2016.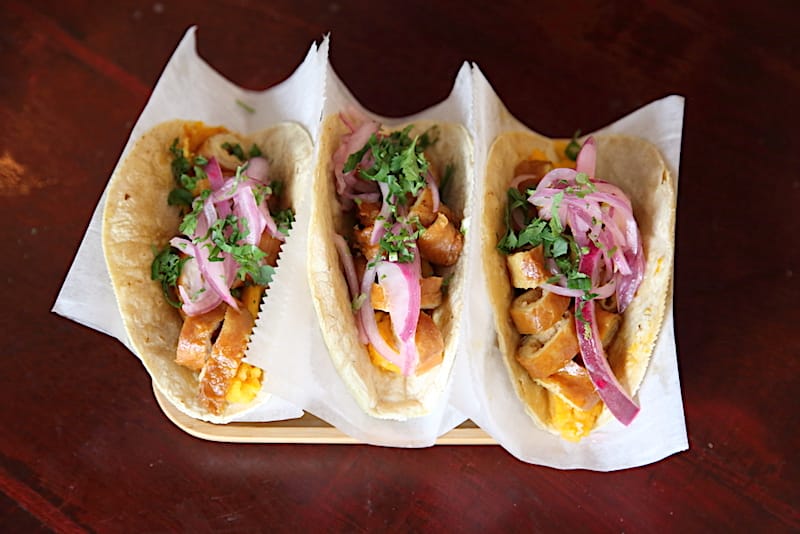 The menu is rich with traditional Ecuadorian fare such as encebollado, a fish stew bolstered by cassava, and a pork-heavy platter of fritada, hornado and chorizo dubbed "tres chanchitos," loosely, "three little piggies." We've particularly enjoyed the tripa mishqui, grilled pork intestines that are popular street food in Ecuador and in Corona Plaza, where at least two vendors specialize in this dish.
Thanks to Fernando's laborious cleaning and marination of the offal, the flavor is not at all funky. In fact, it's "mishqui" – "delicious," in the Quechua language still spoken by many Indigenous people in Ecuador. (A mini-glossary on the back of the menu taught us what little we know.)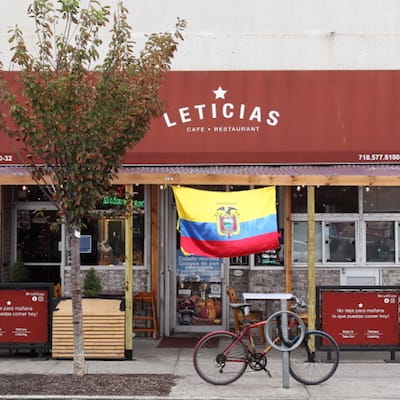 We did not, however, try the standard version of tripa mishqui – we enjoyed it in a trio of tacos. Corona is "half-Mexican, half Ecuadorian," Fernando explains. To celebrate the mingling of cultures in the neighborhood where he grew up, Fernando offers many dishes both in their classic form and cradled in tortillas from nearby Tortilleria Nixtamal. We imagine that tacos plumped with Ecuadorian-style sautéed steak or slow-cooked pulled pork would be just as mishqui.
Covid set the restaurant "back to square one," Fernando tells us, adding that there's still a great deal of uncertainty among restaurant owners about dining regulations, both indoors and outdoors. He's redoubled his efforts to build community, and hopes to organize cross-promotions with a few other well-regarded Ecuadorian restaurants.
Memories of community and hospitality, especially in his mom's kitchen and at that first restaurant job, stayed with Fernando over the years. His desire to open a restaurant of his own was kick-started by the renovation of Corona Plaza.
Fernando also hopes to build back better through his application for a full liquor license; as of now, he can serve only beer and wine. He's already experimenting with cocktail flavors that include naranjilla, a "little orange" whose juice is, surprisingly, green as well as tart; horchata, which in Ecuador is clear, red and herb-infused rather than milky; and colada morada.


We sampled a nonalcoholic version of Fernando's colada morada, which suspended blueberries, blackberries, strawberries and pineapple in a purple-corn-based liquid. Fernando also brought out a platter that displayed the many herbs and spices that season it (as well as a second cup of colada morada, which would not go to waste). Most of the seasonings were imported by nearby Casa America, an Ecuadorian grocery just around the corner, although some were hand-carried from a recent trip back to Cuenca by Leticia herself.
Balancing ingredients is a must for any mixologist, but it's a particular challenge for Fernando, who's experimenting with herbs and spices that rarely, if ever, find their way into a cocktail. We're looking forward to some unique pairings of food and drink. Salud!
loading map – please wait…
Map could not be loaded – please enable Javascript!
→ more information